The annual AAIC meeting is an excellent venue for various stakeholders to present developments on industrial and new crops, discuss new research findings, collaborate with colleagues, and learn about new and emerging technologies. The meeting includes plenary talks, scientific sessions and technical tours.
Our next international meeting, the 34th AAIC Annual Meeting will be on August 27-30, 2023 in Corvallis, Oregon.
Information and meeting abstracts are available for the following annual meetings.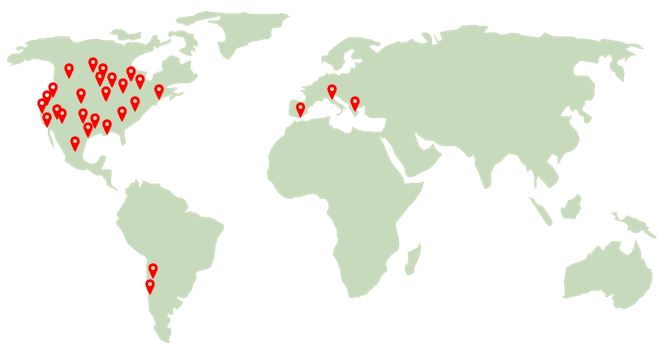 | | | Theme |
| --- | --- | --- |
| Bozeman, MT | 2022 | Integrating technology with industrial crops and their products for a sustainable bioeconomy |
| Bologna, Italy | 2021 | Industrial crops and products unlocking the potential of bioeconomy |
| Tucson, AZ | 2019 | Advancing the adoption of industrial crops through innovation and technology |
| London, Ontario, Canada | 2018 | Pathway to Commercialization of Industrial Crops |
| Ames, IA | 2017 | Industrial Crops and Products: Renewable Feedstocks for a Sustainable Bioeconomy |
| Rochester, NY | 2016 | Industrial Crops: Promoting Sustainability |
| Lubbock, TX | 2015 | International Conference on Industrial Crops: Research to Commercial Applications |
| Athens, Greece | 2014 | International Conference on Industrial Crops and Products |
| Washington D.C. | 2013 | New Crops : Bioenergy, Biomaterials, and Sustainability |
| Sonoma, CA | 2012 | Industrial Crops: Developing Sustainable Solutions |
| Fargo, ND | 2011 | Challenges and Opportunities for Industrial Crops |
| Fort Collins, CO | 2010 | New Crops : Exploring Diversity and Preserving our Future |
| Concepción, Chillán, Chile | 2009 | The Next Generation of Industrial Crops, Processes, and Products |
| College Station , TX | 2008 | New Crops & Bioproduct Development |
| Portland, ME | 2007 | Bringing Industrial Crops into the Future |
| San Diego, CA | 2006 | The 6th New Crops Symposium |
| Murcia, Spain | 2005 | International Conference on Industrial Crops and Rural Development |
| Minneapolis, MN | 2004 | AAIC/NUC Joint Annual Meeting: Industrial Crops & Uses to Diversify Agriculture |
| Portland, OR | 2003 | AAIC Annual Meeting: Solving Problems with Industrial Crops |
| Saskatoon, Sask., Canada | 2002 | AAIC Annual Meeting |
| Atlanta, GA | 2001 | The 5th New Crops Symposium |
| St. Louis, MO | 2000 | AAIC/NUC Joint Annual Meeting |
| Eugene, OR | 1999 | Diversity in Agricultural Markets : New Crops and New Markets |
| Phoenix, AZ | 1998 | New Crops and New Uses: Biodiversity and Sustainability |
| Saltillo, Coah., Mexico | 1997 | International Conference : The Green Industrial Revolution |
| San Antonio, TX | 1996 | |
| Indianapolis, IN | 1995 | |
| Catamarca, Argentina | 1994 | |
| New Orleans, LA | 1993 | |
| St. Louis, MO | 1992 | |
| Indianapolis, IN | 1991 | |
| Riverside, CA | 1990 | |
| Peoria, IL | 1989 | |
Meeting Program and Abstracts